While Antoine's new consulting job might be a big giant bummer, in that we don't get to see each other Monday through Thursday and he has to be by his lonesome in a city where he knows no one besides the several people he's working with, there's also a couple of perks. There's the perk of more money...which allowed us to quit our part time jobs. But there's also the fact that consulting is a fast track gig that will let Antoine move up the ladder more quickly than he was here. But the perk that stands out most in my mind, the one I can't stop thinking about, is the possibility of travel. I'm not just talking about weekend trips to Chicago, which I am looking forward to though. No, I'm talking about travel excursions to the places Antoine and I want to go most...off the clock. See, Antoine has to make all his travel arrangements in advance and then he's reimbursed later. This means every week he makes flight arrangements, hotel reservations, and gets a rental car. Thus racking up points on his credit card while also accruing frequent flier miles, free hotel stays and rental car points.
As soon as I found out about all these free miles and points and hotel stays Antoine would be racking up in the course of a year my imagination went wild, immediately I started thinking of ALL the places I wanted to go to! All the places I haven't been, but really want to! I thought of the East coast to see the leaves change. Austin, to go to the the Austin City Limits Festival. Savannah, GA...to stay in a colonial style BnB and take in some Southern charm. Charleston, SC...to collect seashells on the beach and take in the sprawling oak trees. And I planned in my head, the soonest we could possibility go...maybe September or October? Then I thought to myself..."how much vacation time do you think you have!?" Last time I checked, it was about 8 hours (I'm really bad about saving up my vacation and sick time...it's a little problem I have). So, it's going to take a while to save up enough vacation time to take a decent trip! And if you (I'm still talking to myself here) can save up like two weeks of vacation time, you might as well make it worth it and go on your dream (US) trip.
So, I think that's what we are going to do. I'm going to do my best to hoard as much vacation time as I can and then, maybe in May of 2012, we can go on the trip that I've been planning in my head for ages! It'd take at least two weeks. First, fly into Seattle and snag a rental car (hopefully for a reasonable price if we've racked up enough points)...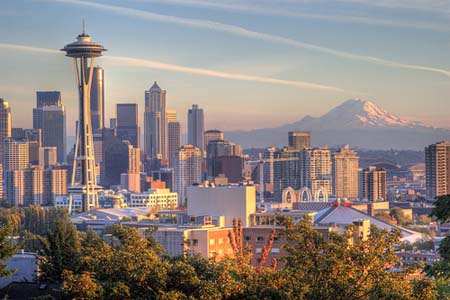 Visit Olympic National Park, Pike's Place Market and the Seattle Central Library (for starters)
Then drive down to Portland to visit the rose garden and the Japanese gardens.
Then make our way to Crescent City, CA to visit the Redwoods. I love trees and there's very little I want more than to take in these gorgeous beauties that have been around for ages!
San Francisco to visit Chinatown and ride a trolley.
Then drive about 4 hours East to Yosemite National Park. Ever since I visited Rocky Mountain National Park in Colorado I've made a little personal goal to visit every possible major national park I can!
Then back to the coast to visit Monterey, CA.
From the moment I first saw pictures of Big Sur I knew I had to go there. When Amanda went on a similar road trip to the West coast I was dumbfounded by her pictures of Big Sur, it didn't even look real!
Finally we'd end our trip in LA. Antoine's best friend recently moved there so he could show us all the sights!
That's my dream trip, my dream US trip anyway! And with any luck, next year my dream just might come true!